About 911 Restoration Pensacola
Meet The Owners:
911 Restoration Pensacola
is headed by the team of Jim Quinn, David Burns, and Elton Riley. Jim and David are the owners of the 911 Restoration branch in Memphis, while Elton runs the branch in Birmingham. The three of them are teaming up to bring the fresh start attitude right here in Pensacola.
While the common goal of our owners is to provide top quality restoration services so the people of Pensacola can receive a fresh start, each of them have their own reasons for joining the 911 Restoration team.
Jim and David joined 911 Restoration because of we're a family oriented company. They believe the core of the company is in the locations it serves. In the branches that they run, the communities they serve know that Jim and David serve with professionalism and integrity.
On the other hand, Elton has been in the restoration industry for more than 30 years. His experience has allowed him to work on all kinds of water emergencies and he's built up his reputation as an honest and fair expert.
With the values and experiences Jim, David, and Elton have in the restoration industry, you can rest assured your home will be in good hands with 911 Restoration Pensacola. By the time our team is done with the restorations, your property will look good as new!
Our Restoration Team Will Work On All Kinds Of Water Damage Situations

The water damage restoration team from 911 Restoration Pensacola is IICRC certified to take on any water disaster. You can expect Jim, David, Elton, and the rest of the team in Pensacola to perform the following tasks for you:
We will perform a free visual inspection of your property so can offer the best solutions to fix the problem.
We will use advanced equipment to remove water and moisture from your home.
We will check for and remove any signs of fungal growth.
We will provide quality restoration services that will fix roof leaks, pipe bursts, sewage spills, flooding, and damage from disasters.
For any water damage situation, you can expect 911 Restoration Pensacola's highly qualified team to be there within 45 minutes of your call so your home can get a fresh start as soon as possible.
Water Damage Pros That Will Set Your Mind At Ease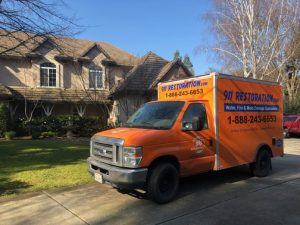 Jim, David, and Elton perform every job with the fresh start attitude that makes 911 Restoration unique. Our water damage Pensacola technicians perform work that will ensure your home looks good as new once we're done with the restorations.
Your convenience and satisfaction are important to us. So whenever you need help in resolving a leak, our team is available 24/7/365 so you can get the help you need exactly when you need it. To add to your convenience, you can also count on our help in filing your claims with your insurance provider.
Should you need the professional assistance of Jim, David, and Elton to fix damage done by a pipe burst or flood, give the water damage Pensacola pros from 911 Restoration a call today!