Commercial Water Damage Restoration in Pensacola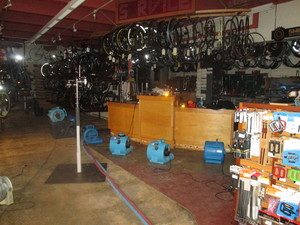 If you are a commercial property owner in Pensacola, then you know the potential threat of living so close to the coast. Strong storms can bring about flooding and other property damage issues that many business owners fear. While you may not always be prepared for water damage to strike your commercial property, the team at 911 Restoration of Pensacola is always prepared to provide commercial restoration services in Pensacola whenever you need them. 
Mother nature works on a schedule of her own. For this reason, our commercial restoration team is available 24/7, 365 days per year. Upon their arrival, an initial assessment of the property will be done in order to determine the type of damage and the extent of it. Following the assessment, the commercial restoration experts will decide the proper restoration services to provide in order to get your property back to pre-damage condition.
At 911 Restoration of Pensacola, our commercial restoration team understands that every minute you are receiving emergency repairs is a minute lost in business revenue. In order to get you back to business as soon as possible, it is imperative to call our team as soon as property damage has been detected. The longer damage sits, the worse it can get. Therefore, the sooner the commercial restoration team responds, the quicker the cleanup process. Call our Pensacola commercial restoration experts to get your business on the path to a fresh start. call 911 Restoration of Pensacola at our number 850-316-4562
Water Damage as the Result of Hurricane
Pensacola has a lot to offer residents and visitors. Beautiful beaches, great nightlife, and a family-friendly atmosphere. Unfortunately, Pensacola is also prone to disasters like strong storms, hurricanes, floods, and tropical storms. Hurricanes in particular leave behind an extensive amount of damage, to properties and their owners.
Hurricane season begins every year in May and lasts until November. These storms come with little warning and grow exponentially until they make landfall. The strong winds uproot trees, knock over power lines, and can cause severe flooding. Dependent on what category hurricane the Pensacola area is experiencing, the damage can be catastrophic and take the community years to rebuild. The combination of high winds and heavy rainfall is what makes these storms so destructive. It is important that property owners always be as prepared as possible in the event of a hurricane. One step of being prepared is knowing to call the commercial restoration team at 911 Restoration of Pensacola for all of your water damage services after the storm has subsided.
On top of water damage, the commercial restoration team is able to provide services when a property experiences fire damage, mold infestations, sewage backup, and smoke damage. The team of highly trained commercial restoration experts has the knowledge, experience, and equipment to provide services such as:
Mold removal

Drywall repair

Water damage restoration

Broken water pipe repairs

Crawl space cleanup

Ceiling leaks

Disaster cleanup

Emergency restoration services

Smoke damage removal

Odor removal

Fire damage restoration

Mold inspection

Mold decontamination

Mold testing

Carpet drying

Water damage restoration Pensacola

Water removal

Puff back cleanup

And more!
Pensacola commercial property owners can rest easy knowing that there is a team of highly trained technicians available to provide a multitude of restoration services. They have the skills and state-of-the-art equipment needed to remediate property damage of any size. Restore your peace of mind and property by calling the commercial restoration experts at 911 Restoration of Pensacola. call us 850-316-4562
Commercial Restoration Team Who Cares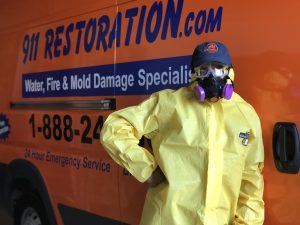 At 911 Restoration of Pensacola, we believe in going the extra mile. Our job may be to provide commercial restoration services, but we want customers to know that we truly care about their well-being and peace of mind. 
When you choose our commercial restoration team for water damage services, you get a team that works with you. At no point during the process will you feel alone. When questions or concerns arise, commercial restoration experts will answer them. In order to provide a commercial restoration that matches our high-quality customer service, 911 Restoration customers receive benefits like:
Free visual inspection for property owners only

Complete property restoration

Free Insurance consultations

Direct insurance billing

Reconstruction and renovations that will make the property better than new

A team of highly trained commercial restoration experts that truly care
911 Restoration of Pensacola's team of commercial restoration experts is available 24 hours a day to get your business back up and running. You will receive a quick response and efficient services that will have your business back to its pre-damage condition in no time. Give your commercial property the fresh start it deserves by calling our team today! Call us at 850-316-4562 and learn how we can help. You can expect the highly trained team of IICRC-Certified technicians to arrive on-site within 45 minutes of receiving your phone call.
Serving the communities of Milton, Pensacola and surrounding areas.