Mold Removal in Pensacola
A mold outbreak may seem like no big deal. That's what cleaning supplies are for, right? Wrong. Many types of mold can be deceivingly harmful to your respiratory health. That's why you should call the experts at 911 Restoration of Pensacola at the first sign of a mold breakout to ensure complete and proper mold removal. 
Western Florida's climate makes the area especially susceptible to mold outbreaks. Pensacola averages 64 inches of rain per year, nearly twice the national average. In addition, the Southern United States' subtropical climate means above average humidity levels, especially in the summer. All these factors can lead to rapid mold growth.
Even if you do clean up mold on your own, there is no guarantee that there aren't still spores around your house, ready to settle down again and grow in a different area. Plus, mold usually grows in dark, secluded areas, which makes it easy for property owners to miss until it's too late. If mold is left to grow, not only can it lead to health issues for the employees or residents who are around it all day, but it can also break down drywall, wood, and other materials, leading to long-term structural damage and expensive repairs down the road. If you need mold damage restoration in Pensacola, call the specialists at 911 Restoration today. Call us at 850-316-4562 and learn how we can help
Our Mold Removal Specialists Will Help You Get a Fresh Start
We provide free visual mold inspections for property owners to assess the damage before we even talk about prices. As soon as you call, our specialists are guaranteed to arrive within 45 minutes to ensure you can get immediate assistance in case the mold needs to be removed quickly. When they arrive, our team conducts the free inspection, then when they're ready to get to work, you can rest assured you're getting the best mold removal service around. That's because all our technicians are IICRC-certified in mold removal service in Pensacola and they're equipped with advanced drying equipment to ensure you won't have another outbreak any time soon.
Not sure whether you have a mold infestation on your property? Some signs to look for are black or pink spots on walls and rafters; dampness in the air; moist books and textiles; and, of course, a moldy smell. When our professionals arrive for clean-up, they take mold samples from your property and send them to a third-party laboratory for testing. This means they'll have a good idea of what type of mold has grown on your property and they can specialize their removal tactics to your situation. call us 850-316-4562
Call 911 Restoration of Pensacola for Water Damage and Mold Remediation Today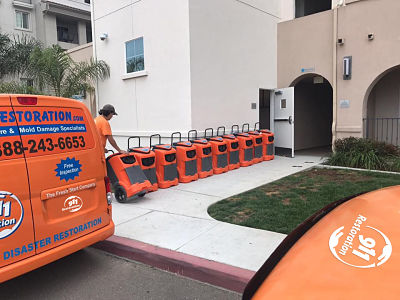 When we're called for a mold removal pensacola fl service in Pensacola, we don't just clean up the infestation and leave. Our team also double-checks to make sure there are no more spores in the air and they'll fix any structural damage caused by the outbreak. We take our customers' satisfaction very seriously, and we don't consider a job finished until you're completely happy with our work. Whether it's helping with insurance paperwork, patching up drywall, or vacuuming carpet, we're ready and able to do whatever it takes to give our customers a Fresh Start. 
We have years of experience in both residential and commercial mold removal, so whether you own a single-family home or a luxury hotel, you can trust 911 Restoration of Pensacola to get your remediation job done quickly and safely. Because of our top-of-the-line drying and structural restoration practices and Fresh Start attitude, you can count on us to get your home or business back to brand-new condition. For any mold damage restoration in Pensacola, 911 Restoration is your best bet. Call us and allow us to provide you a free visual inspection.
At the Fresh Start Company, we care about and understand your needs as a property owner. When you experience a mold outbreak, we know how important it is for your home or business to get back to normal as soon as possible. Call us today and let the professionals at 911 Restoration of Pensacola provide you with peace of mind.