Pensacola Sanitization Services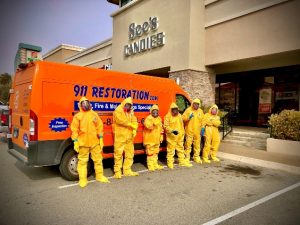 Every state in the nation, including Florida, is feeling the impacts of the global coronavirus crisis. As the infection rate rises by the thousands, local residents are hunkering down at home. Pensacola businesses are shutting down, and massive layoffs are happening statewide.
 In an effort to contain the spread of the coronavirus, the CDC highly recommends that everybody washes their hands for at least 20 seconds throughout the day, maintain a distance of six feet or more between other people, self-isolate as much as possible, and wear a face mask to protect your nose and eyes when you do venture to the grocery store. Call us at 850-316-4562 and learn how we can help
 NPR believes that ¼ to ½ of the world's population will become infected with the coronavirus. Other experts think that over 80 percent of people in America will catch this deadly disease. 
Here at 911 Restoration of Pensacola, we know you're concerned. Our deep cleaning and sanitization technicians are thoroughly trained to properly follow CDC and EPA protocols.
 When symptoms do start happening, they highly resemble signs of the common flu and include:
A high fever of 100 degrees or more

Tiredness

Fatigue

Pains and aches

Severe breathing troubles

Wheezing

A dry cough
 If you are suffering from any of the aforementioned symptoms, it is best to call a medical professional straight away.
 Even if you don't have any symptoms, it is important to protect your employees, customers, friends, and family members. 
Our IICRC-certified technicians at 911 Restoration of Pensacola are ready 24/7/365 to provide professional mold removal, cleaning, disaster restoration services, sanitization, etc. 
911 Restoration of Pensacola cares. we are all in this together. Stay safe. Please call us at 850-316-4562