Water Damage in Pensacola
911 Restoration of Pensacola
If your home is damaged by water from flooding or roof leaks, get in touch with the experts from 911 Restoration right away.  
When you need our help, we can be there within 45 minutes of your call and get right to work on solving the issue. We'll perform a free visual assessment of your property our water damage Pensacola technicians can pinpoint the source of the problem and recommend the right solutions. Call us at (850) 316-4562 and allow us to offer you a free visual inspection.

By performing an inspection, our water damage Pensacola team can help you file your claims with your insurance provider so you can get the most affordable prices.
At 911 Restoration of Pensacola, we offer a Fresh Start with our comprehensive selection of property damage restoration services, including but not limited to:
Whether you're a Pensacola homeowner or business owner, 911 Restoration of Pensacola is your Fresh Start! We'll communicate with you throughout the entire process, help answer questions related to insurance, and restore your property to its pre-damaged condition. One of our IICRC-certified teams is dispatched within 45 minutes of your call! Contact us today, and one of our friendly representatives will assist you in finding the nearest Pensacola location.
Service area map
Pensacola water damage emergencies like floods, sewage spills, and pipe bursts can occur unexpectedly, but you can rest assured that the water damage team can help whether it's at the crack of dawn or the dead of night.
Our Pensacola water damage specialists are available 24/7/365 to take on even the worst water emergency. On the day of the services, make sure that your home can look good as new in no time. Call us at (850) 316-4562 and see how we can help.

Sherry M.
"I would give them 6 stars if I could. I had to deal with a flood in my business, an absolute nightmare for every business owner. 911 Restoration came right away, and they are so professional and efficient. Even after everything was done they followed up and made sure everything was back to normal. A+ customer service. Thank you!"
Water Damage Restoration
Water damage restoration can affect your home through various means. Our team of professionals has nearly four decades of experience in dealing with all kinds of water disasters. You can count on our specialists to take on issues such as:
Roof damage

Ceiling leaks

Flooding

Sewage and chemical spills

Malfunctioning fire sprinklers

Storm damage

Fungal infestations

Damaged hoses on water-based appliances
Each of those issues can lead to many problems if not taken care of by experts immediately. Our team uses advanced equipment that can clean and repair any water emergency quickly and effectively. Our water damage in Pensacola team is ready to provide your property with restorations that will ensure your home gets a fresh start. Give us a call today!
Sanitization Services & Disinfection Solutions
Wondering what you can do to help with the coronavirus outbreak? We all have a part to play in reducing the impact of the coronavirus on our community. While no one person can stop this infectious disease, you can limit its impact by taking certain steps. Make sure that you self-isolate if possible. Keep social distancing in mind when you go out. Finally, keep your property clean and sanitized to increase your peace of mind.
911 Restoration will provide you with the sanitization services you need during the coronavirus pandemic. We are standing by to offer you personalized disinfection solutions. Our techs have the resources and training to clean and sanitize your office, retail space, or personal property. We utilize the most up-to-date recommendations from the EPA and the CDC when taking care of sanitization and disinfection. Contact us today at (850) 316-4562 to set up a time to have your property cleaned and sanitized.
Mold Removal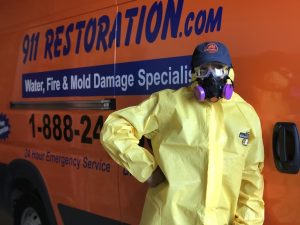 Fungal infestations are a direct result of prolonged exposure to water and moisture, and it doesn't take long for mold to start to set in. As a matter of fact, mold growth can start forming in less than 24 hours of exposure to moisture, but it can take as long as two weeks for any signs to be clearly visible.
The best way to get rid of mold right away is by getting in touch with the mold removal Pensacola specialists from 911 Restoration as soon as possible and letting us take care of those leaks for you.
Our mold removal in Pensacola team will look for the leak and evaluate the affected area. We will repair the damage right away and make sure the area is sufficiently dried to ensure that no fungus starts sprouting up. Should we encounter any fungal growth, our licensed, insured, and bonded mold removal experts will use eco-friendly solutions that will clean the affected area without causing harm. Allow our mold removal pros to take on those leaks and mold problems for you today!
Sewage Backup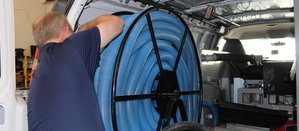 Sewage spills are dangerous situations that can be harmful to both your property and your health. It carries various kinds of bacteria that can be difficult to thoroughly clean without the right equipment.
Fortunately, the sewage backup pros from 911 Restoration of Pensacola are prepared and equipped to perform decontamination for you. Our team will be wearing hazmat gear throughout the cleanup process so we can work on the issue safely.
With our advanced water extraction equipment, we can make sure that sewage is completely removed. You can also expect our sewage backup to perform the necessary restorations that will repair any damage done to your property.
Our sewage backup team will repair plumbing and restore walls and floors. To effectively decontaminate your home, we will apply industrial strength cleaning solutions to the affected area. This will remove all traces of harmful bacteria without causing any further harm.
Whenever sewage is putting your home and your health in danger, trust the sewage backup in Pensacola experts to be there to lend you a hand. Call us at (850) 316-4562.
Fire Damage Restoration
A fire can cause extensive damage to a large section/s of your home. Firefighters can only do so much to stop the blaze from causing more harm.  Once the fire is extinguished, it's going to take a lot of work in order to get your home back into shape.
Fortunately, this is where 911 Restoration's fire damage restoration in Pensacola pros can help you out. In fact, we offer complete restoration services that will allow you and your home to have a fresh start. Our fire damage restoration specialists can extract the water used to extinguish the fire, and from there we can begin with the rest of the restoration process.
Using our vacuums and blowers, we'll remove any traces of ash or soot clinging to the walls and vents of your home. To remove all foul odors, we'll make use of various cleaning solutions. Once the area is cleared, our fire damage restoration in Pensacola will begin refurbishing the affected area, including the furniture, cabinets, walls, and floor. Your home will get that fresh start you're looking for in no time!
Disaster Restoration
Storms and other disasters, natural or man-made, can harm your home in various ways. Disasters can damage the roof, walls, plumbing, and floors. It could be necessary to call in an army of contractors to deal with these different issues.
But with help from 911 Restoration of Pensacola disaster restoration experts, we can take care of all the restorations necessary to make your home look good as new. We can offer comprehensive repairs that will remove flood water and restore any damaged sections.
Of course, we will ensure the roof is sufficiently repaired, the walls and floors are refurbished, and any flooded areas are thoroughly dried and decontaminated.
If your home is affected by disaster or water damage, call the disaster restoration experts from 911 Restoration.  We will restore your home and make it look brand new. Get a Fresh Start!  Call us at (850) 316-4562.
Commercial Restoration
When you own commercial property, the last thing you need is a disruption to your business. Mold or water damage doesn't just affect your building. It drives away customers and profits.
At 911 Restoration of Pensacola, we handle all kinds of commercial restoration, and we work with your budget and schedule. Our knowledgeable staff communicates every step of the way, and we get the job done right the first time. Our goal is to save you time and money so you can get back to what matters most: running your business.
We are IICRC certified to provide you with the highest quality water damage restoration. Expect our water damage professionals to restore every nook and cranny of your home like crawlspaces and attics.
Serving the communities of Milton, Pensacola and surrounding areas.