Do Smoke and Soot Go Inside the Walls? How Do the Smoke and Fire Damage Restoration Companies Remove it?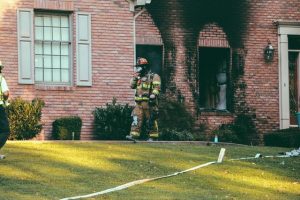 Every year, 358,500 occur around the globe. According to the National Fire Protection Association (NFPA), unattended cooking is the number one cause of residential fires. The other common causes of house fires include electrical fires, smokes, candles, heating, and cooking.
Fire damage restoration is a very thorough and long process that can take a few days to six months. There are various questions that people have regarding fire damage restoration. One of the common ones is, "Do smoke and soot go inside the wall?"
Let's discuss if it does.
What Is Smoke and Soot Damage?
Soot damage occurs after a residential and commercial fire. Soot is a black powdery or flaky substance that results from incomplete combustion. On the other hand, smoke damage is any physical and structural damage caused by the smoke that's generated by a fire.
Do Smoke and Soot Go Inside the Wall?
The answer is yes. Smoke and soot can hide behind the walls. After a fire incident, smoke can travel through cracked walls, electrical lines, and as well as ventilation systems, and plumbing. It can settle into objects that aren't visible to the eyes. Therefore, the removal of smoke and soot is absolutely necessary.
As far as soot is concerned, it immediately settles into the walls, furniture, and other objects after a fire incident. By leaving smoke damage unattended, you basically are increasing the time and cost of fire damage restoration. And when soot damage is left unattended, the only options you are left with are to replace or reconstruct the property.
Soot particles' electrostatic attraction causes them to cling to the walls. It is considered dangerous because it contains dust, acids, chemicals, metals, and other dangerous materials. They are four times smaller than dust particles, making it possible for them to spread throughout the house in no time.
Most people don't know this, but smoke damage remains even after the fire has been put out. Therefore, there's no way you can live in a house with smoke damage.
Why is Smoke and Soot Damage Considered Dangerous?
Leftover smoke and soot after a fire hazard are more than just smelly. It's important to keep in mind that smoke damage can result in various health conditions, including burning eyes, lung diseases, and chronic health conditions. Therefore, home restoration companies ensure to eliminate all traces of smoke damage from the house.
As far as soot is concerned, soot particles can enter your body through inhalation and digestion and result in various health issues, including heart diseases, asthma, and cancer. Soot damage can majorly affect infants and adults who have breathing problems. There are various harmful chemicals present in soot that can be harmful in the longer term.
How to Remove Smoke and Soot from the House after a Fire?
One way of removing soot and smoke from walls and furniture is to mix together mild soap or detergent and 4 to 6 tablespoons of tri-sodium phosphate chlorine breach to every gallon of warm water. Scrub walls, furniture, and other items of your house using the mixture.
Don't forget to wear your rubber gloves before starting to work on the removal of smoke and soot. When you are done, thoroughly rinse the items with warm water. Make sure you let the surfaces dry properly.
Should You Handle Fire and Smoke Damage Restoration on Your Own?
It might seem like you can, but it's better not to take any risks. The reality is that you probably don't have the equipment and cleaning products that home restoration companies use to restore your house after a fire and smoke damage. Only home restoration experts can assure a fire damage restoration after the fire incident.
Home restoration experts use vacuums to suck up soot by ensuring it doesn't get redistributed into the air. By not doing it properly, you will be enabling soot particles to prevent throughout your property.
Another reason to trust home restoration experts to help with the removal of smoke and soot is that they have experience, expertise, and the right safety gear to protect themselves from the health effects of soot, smoke, and fire damage.
It takes a day or two to fix smoke, and soot damage, which means trying to do it yourself can delay your return to home by a few days at best and a week at worst.
Looking for Fire Damage Restoration Services in Pensacola?
One of the most reliable home restoration companies to trust with fire damage restoration services is 911 Restoration of Pensacola. The company uses vacuums and blowers to extract every trace of smoke and soot.
Often, fire damage initiates water damage. Therefore, they also extract the water that firefighters use to extinguish the fire. Their aim behind water damage restoration is to prevent mold growth and structural harm to your house. They offer complete restoration along with deodorizing your belongings.
Want to avail a free inspection? Give 911 Restoration of Pensacola a call today!