What to Learn from Hurricane Sally – Mitigating Flood Damage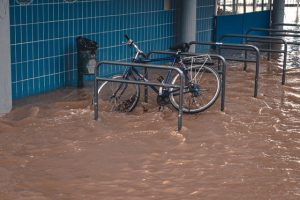 A flood can occur at any time of the year and vary in intensity. However, there is always some property damage. Those who live close to water bodies experience floods more frequently, and their belongings and property get damaged every time, requiring expensive restoration processes.
Most of the time, the valuables damaged are irreparable, and that is when it is crucial to call professional restoration services for help. 911 Restoration has years of experience dealing with flood and water damage and can provide you with the best services you're looking for.
However, everyone is looking for ways to mitigate or reduce the damage caused by floods. This article will provide you with simple, helpful tips to reduce damage and dangers next time you experience flooding on your property.
Clean Out Downspouts
If your home is not prepared adequately during monsoons or the rainy season, then the chances of localized flooding are high. Make sure to take simple steps such as cleaning out gutters and drains so that all the precipitation would channel away instead of entering your basement or the lower levels of your house. Make sure that the downspouts are clear as well and faced outward.
Move Expensive Furnishings To Higher Ground
If you live in a low-lying area, then the chance of your property flooding is very high. Floodwaters can easily penetrate your home's interiors and ruin all the belongings and equipment you have in that area of the house.
To prevent this, once there is a weather warning, you could take steps to transport all your valuables such as furniture, washing machine, sofas, or anything expensive to the higher levels of the house to prevent them from getting wet damaged if the ground levels flood.
The best way to prevent this is to check if the area you're planning to live in is in a high flood zone. Research before you invest in a property, so you don't have to keep paying for property damage in case of flooding.
Check Your Sump Pump
Sump pumps function by pumping water to the exterior, which prevents flooding in your home. While most sump pumps run on electricity, opt for battery-powered pumps if you want to ensure they operate at all times, including during a power outage. They would be invaluable in an emergency.
You can check if your sump pump is working by cleaning the sump pump and pit and testing the pump by pouring water into the pit.
Reinforce Your Roof
You may never know, but roofs can have cracks that can lead to leaking and water damage to property. If you live in a flood-prone area, professionals suggest replacing your existing roof with an asphalt-shingled roof that usually lasts approximately 25 years. Consider installing waterproofing material that sits underneath the shingles. Waterproofing makes it harder for rainwater to leak in and damage the interior walls or ceiling.
Purchase Flood Insurance
If there is one thing you can do to protect yourself and your home, make it by purchasing flood insurance. FEMA estimates that over 5.3 million people in the United States have flood insurance through the National Flood Insurance Program. You won't have to worry about paying large sums for repairs if you have flood insurance, as you're only responsible for the deductible.
Tips to Keep You and Your Family Safe During a Flood
If there is a threat of flooding in your area, follow the tips below to protect your family during this dangerous disaster.
Have an emergency plan and practice survival skills with your family. Designate meeting points in case they get lost in the havoc. Also, ensure they know how to swim and disinfect water.
Assemble an emergency kit for each family member. Include all necessities, such as clothes, water, food, medications, and a first aid kit.
Charge your cellphones, power banks in case there is a power outage.
Use battery-operated flashlights, and buy extra batteries in case the power outage is prolonged.
Low-lying areas such as ditches, basements, or underpasses become extremely dangerous during a flash flood, and that is why it is best to avoid them.
Find dry areas to walk in; walking in flooded areas could be dangerous as you never know how deep the water is and what lies underneath it that could hurt you.
If you have no choice but to walk in areas covered with water, try to walk where the water is not moving. Use a stick to check how deep the water is and the firmness of the ground in front of you.
Do not try to drive in floodwaters. Sadly, if water rises above your car, you will have to abandon the car and move to higher ground.
Touching electrical equipment with wet hands can be dangerous. Make sure you're not in the water when using one.
Once the floodwaters have passed, wait for the authority's instructions before you try to return to your home. You should return to your place only when the authorities say it is safe.
Listen to news reports carefully and note down the places where water is hygienic and clean to drink.
Call 911 Restoration for Assistance
911 Restoration has specialized equipment and years of experience assisting with flood and water damage emergencies. If you're looking for a Restoration Company in Pensacola, call now at (850) 316-4562. Our services are available 24/7, and we can respond to your needs within 45 minutes in the event of an emergency.