Improved Air Quality & Sanitization Even in a Post-COVID World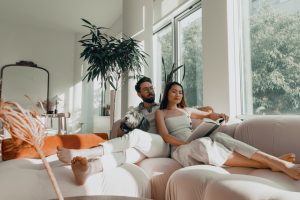 Among many other things, the covid-19 pandemic has taught people the importance of breathing clean, fresh air. As scientists and government authorities worldwide try their best for the human race to breathe freely again, there are a few measures that you can take on your own to supply yourself and those around you with clean air.
These methods reiterate the importance of sanitization and improving air quality and will continue to provide you many health benefits even when there is no need to put on a mask all the time. These measures are:
Ban Smoking Inside
Clean air isn't only clean of the covid-19 virus; it is also clean of toxic smoke. Many have always held the view that smoking should have been allowed inside in the first place. The pandemic has brought them a little sliver of hope that they will never have to forcefully passive smoke again.
The covid-19 pandemic has gotten all the smokers in the habit of smoking outside. If you don't want to take breathing freely for granted and if you want to continue getting the health benefits of breathing fresh air, you shouldn't allow anyone to smoke inside your home again.
Install Carbon Mono Oxide Detector
As many lost their sense of smell after contracting the covid-19 virus, they have become wary of getting hurt from a lack of sense of smell. People don't worry too much about fires since smoke detectors are common and because smoke is also visible. However, installing carbon mono oxide detectors has gained the attention of many who realize the risk of being hurt by something they cannot see or smell.
Installing a carbon mono oxide detector won't improve the air quality inside directly. However, it will let you know when the air quality is unsafe for you to breathe inside.
Clean Fans and ACs
Before the covid-19 became widespread, only a few people paid attention to cleaning the sources of air inside their homes. Covid-19 has taught people the importance of sanitization in every nook and cranny. Many have noticed the improved air quality inside their homes after regularly cleaning and sanitizing the fans and air conditioning. Keeping up this routine post-COVID will help ensure that you're breathing an improved air quality inside your home.
Avoiding Air Pollutants
After witnessing the improved air quality after the initial lockdown, most people have become mindful of their contribution to air pollution. They prefer to cut down on air travel and hosting bonfires. Some are also switching to eco-friendly sources of energy such as biofuels or are installing solar panels.
Allow Outside Air
The pandemic has reminded us that continued use of ACs and avoiding fresh air is not healthy. Remembering this lesson in the post-COVID world can bring you multiple health benefits and save you money with reduced energy consumption.
Install Air Filters
Installing air filters on windows and doors has multiple benefits. It helps keep the inside air fresh, maintains the inside temperature, and stops bugs and small insects from entering your home. It will also save your money when you find yourself opening the windows instead of turning on the air conditioning to allow the fresh air inside.
Dust Air Filters
Air filters have the added benefit of keeping your home dust-free. The small net of air filter stops most dust mites. In a few weeks, you can see all the dust the air filters have stopped in the form of dust layers on them. You can dust these layers off to allow clean air inside again.
Keep Running the Dehumidifier
In the lockdown, most people have turned their homes into their little sanctuaries. To control the humidity inside these sanctuaries, people have turned to dehumidifiers. However, dehumidifiers are not only great for removing moisture. Rather, they also remove contamination from the air.
Most germs in the air stick to minuscule water molecules. As a dehumidifier removes these water particles, it also removes germs and viruses from the air.
Dehumidifiers are also great for removing dampness and mold from the structural components, furniture, or other objects in space. If you find their function to be overly drying, you can use them in moderation.
Avoiding Toxic Products
The pandemic has made everyone conscious about the quality of the air they breathe. People are more likely to avoid spraying toxic products in the air and improving air quality. They're leaning towards using organic products as insect killers and air fresheners.
People now also avoid burning beeswax candles and sage as both the products release harmful soot into the air. Boycotting these products post-COVID will also help to avoid inhaling toxic substances.
If you want to further improve the quality of air in your indoor spaces in the long run, you should schedule for thorough cleaning and sanitization of your home. While it is easy to clean the surfaces, hidden leaks or mold or bacterial growth in structural details can greatly impact the quality of air inside. Many cleaning and restoration services, such as 911 Restoration of Pensacola, provide thorough cleaning and sanitization services in and around Pensacola to personal and commercial properties.